News of Those Once Affiliated with the Global Church of God
Since the November 1998 takeover of the old GCG by the board in the U.S., those once with GCG went to many places. Most of the members and ministers ultimately went with the Living Church of God (LCG), 8-15% went with the Church of God, a Christian Fellowship (CGCF) and smaller percentages ended up with David Pack's Restored Church of God (RCG), Harold Smith's Church of God Fellowship, Northwest (CGFnw), the Continuing Church of God (CCOG), and other groups (at least one which is outside the U.S. uses the term Global Church of God). On July 1, 2001, eight ministers resigned from CGCF and formed the Church of the Eternal God (CEG), similar in name, but not related, to the Eternal Church of God (ECG--founded by a minister removed from the original GCG ministry for impropriety). About a month later CGCF (USA) dissolved and most then with it ended up in the United Church of God (UCG). One former GCG minister (Ronald Laughland) became pastor of the Wholeworld Church of God. In 2004, Raymond McNair, having been in GCG, CGCF, LCG, then went on his own and formed Church of God, 21st Century (COG21); later he died and that group disbanded. Don Haney, once in GCG/LCG, formed the Church of God In Peace and Truth. In 2005, Ben Faulkner, who was in GCG/LCG, formed the Church of the Sovereign God (CotSG). In 2006, Charles Bryce who was in GCG/LCG left, and formed the Enduring Church of God (En COG). In 2010, several of the main leaders who went to UCG from CGCF left it and went to a group called COGWA. A couple of people, like Norman Edwards (Servants' News/Shepherd's Voice), left GCG well before the 1998 takeover (he has 'Nashville Christian Media'). In 2013, Rod Reynolds left LCG and formed COG Messenger. On 12/15/11, a minister in good-standing with LCG anointed Bob Thiel with oil and prayed that God would grant him a double-portion of His Spirit (see also How To Determine If Someone is a True Prophet of God): and things have not been the same since (Bob Thiel still, of course, supports the goals and biblical beliefs of Philadelphia era of the Church of God). Website links for most of those who were once part of GCG and that have websites can be found at the COGlinks page. In 2012, certain heresies were officially introduced, accepted, and/or promoted by LCG. After concluding that insufficient value was placed on the truth (and keeing their word) by certain leaders of LCG and that they no longer held to biblical church governance and could not as is be used to lead the final phase of the work (see also Why Bob Thiel Left the Living Church of God), on 12/28/12 Bob Thiel was led to form, and then announced, the beginning of the Continuing Church of God (CCOG). In August 2020, Sheldon Monson left LCG and was 'marked' by LCG on 8/19/20 and then on 9/05/20 he announced Church of God Assembly (CGA). The Continuing Church of God (CCOG) is the second largest group, in terms of members, of those groups whose leaders were once part of GCG (LCG is largest). This page reports on those groups that somehow once had ties to the old GCG.
10/15/21 p.m. Received the following email tonight:
I decided to tune in and watch the latest sermon produced by Sheldon Monson's group, COG Assembly. Which came out last Sabbath, October 9th. It is no longer available though sadly. They switched the video to private on YouTube, most likely to edit it. Sheldon delivered the sermon and announced his belief Herbert Armstrong fulfilled the future Elijah role and commission. He claims in the sermon, Herbert Armstrong believed he was Elijah. He also claims, HWA restored every single lost piece of truth and fulfilled every scripture concerning the future Elijah.
It makes sense that COG Assembly made that private. 1) According to HWA he was NOT the final Elijah and 2) He did NOT restore all things--much has been restored by CCOG after HWA's death.
Here is a link to an article: The Elijah Heresies.
10/15/21 a.m. LCG had the following it its e-zine today:
Australia signed a deal with France in 2016 to purchase several diesel-powered submarines. In the agreement, touted as "the contract of the century," France stood to gain both financially and politically (Politico, September 16, 2021). However, Australia recently canceled the deal in order to enter into a pact with the United States and the United Kingdom that would net the island continent eight nuclear-powered submarines—and a security agreement.

The trilateral security pact between the U.S., UK, and Australia—dubbed "AUKUS"—was announced by President Joe Biden. It will allow the three nations to share advanced and secret nuclear technologies with each other (Politico, September 16, 2021). China was not happy with the agreement and labeled it an "intensification of the arms race." The pact was formed as a response to what the allies—especially Australia—view as "belligerent Chinese behaviour" (The Guardian, September 16, 2021). However, this new agreement appears to be alienating France and other European nations (Associated Press, September 16, 2021).
The agreement has prophetic ramifications as it pushes Australia, the UK, and USA closer together, while also pushing them farther away from, as well as alienating, the Europeans. Related to that agreement, we put out the following video:
Here is a link to our video: AUKUS sparking European military.
10/03/21 a.m. CCOG members Terry Nelson and his sons Andre and Asher went to Malawi for the Feast of Tabernacles to work with those in Malawi and Mozambique. This morning, I received the following report about their return:
I'm sick now with Fever and Coughing, but so far I can breath ok; Asher's sick also but not as bad; Andre seems ok, with slight throat issues, we didn't hardly sleep much in the last 24 hours, most likely from lack of sleep from the Terrorist on board our Flight; The man was a Somalian American, sitting in the next isle from us; he was getting loud around 2 am, the male flight attendant told him to quiet down, that's when he grabbed the flight attendant and was going to Punch him, I jumped out of my seat to intervene, then he threw a drink at one of the Female attendants; me and some other men met in the back and planned on restraining him: there was no sky Marshall on Board, I was not afraid, I stood my ground and was ready, we were able to restrain him and zip tie him, until we landed in Dublin Ireland for refuel, the police took him off the plane in Dublin, he also said he had a bomb on board, so there was an internal and external baggage check; fortunately we were able to clear Customs, then our symptoms got alot worse; interesting how all these attacks, came at this Feast; we must be getting close.
What an experience. Please pray for their recovery.
09/01/21 a.m. The 7th COG news page posted the following:
Church of God Assembly


Sheldon Monson writes 27th August 2021:


"Last week's sermon on Will We Place Our Faith in a Vaccine or in God? was pulled from YouTube within an hour of posting the edited version. YouTube gave us a Red Flag citing that it violates their medical misinformation policy. If we post content that "encourages the use of home remedies, prayer, or rituals in place of medical treatment such as consulting a doctor or going to the hospital", the video will be banned and you will receive a red flag. If we receive another red flag, YouTube will ban us from streaming for at least one week. We've known that this day would come, and have been preparing a back-up plan. Going forward we will begin including a link to LIVE stream on a platform called Twitch. It is a gaming platform, so it will look and feel a bit different, but most importantly we will not have a disruption in the regular streaming weekly LIVE services."


He comments at the 28 minute mark that he had been healed of stage 4 cancer, and in January this year he was at home with Covid-19 for 10 days, then spent 5 days in hospital with double pneumonia, but he never thought that he would die.
YouTube and other parts of Big Tech have pushed a lot of "medical misinformation' as well as suppressed truth about COVID-19 options and treatments (Facebook removed one of my documented and referenced posts related to natural approaches to improve the immune system about a year ago).
YouTube, itself, has increased its censorship this year. It censored a video from us in the CCOG, that we still have up on another platform. Here is a link to the YouTube removed video: Disney's abominable promotions!
A 'famine of the word' (Amos 8:11-12) is coming. And for years, I have warned that this would include pulling materials off the internet. This is one of the reasons that the CCOG has videos on multiple platforms (see CCOG Multimedia page). While we not YET at the true 'famine of the word,' we certainly see that the plan to remove information is getting widespread support from Big Tech as well as various governments. See also the article Preparing for the 'Short Work' and The Famine of the Word.
08/15/21 a.m. A 7.2 magnitude earthquake struck Haiti on Saturday. The earthquake was about 12 kilometers (7.5 miles) northeast of Saint-Louis-du-Sud and 10 kilometers deep, according to the US Geological Survey.
Haiti has already had many problems and troubles, and this quake looks to make matters worse.
The quake was centered close to where most of the Continuing Church of God brethren in Haiti live.
I received several reports related to CCOG members there. Five of the brethren in the area now do not have housing due to the quake. Here is one related photo:
There look to be other issues as well.
Our leader in Haiti, Nicolas Moise, has been going around his area to visit the brethren. He has sent a picture of Moma Simon, who has a broken left leg caused by her house falling on her: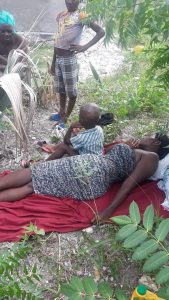 Please keep those in Haiti in your prayers.
We are also trying to figure out how to best assist physically as well.
08/14/21 p.m. RCG's David Pack reportedly sent out the following that he wrote:
For many reasons, we are still not out of time! The spectacular complexity of the picture has moved many BIG things we are waiting for closer to the start - but also widen the window of our wait. The idea of counting back from the Last Great Day no longer applies as we understand it - something a brief email cannot explain. Suffice to say, we are still right where we need to be. With no reason to believe we must "wait another year"!
The Great Tribulation cannot start before 2025 (for biblically-reliable proof see the article When Will the Great Tribulation Begin?). The end is not yet (Matthew 24:6). David Pack will be proven wrong again.
08/13/21 a.m. In its newsletter today, CEG had the following:
Suppressing Medical Opinions

Life Site News wrote on August 4:

"Dr. Elizabeth Lee Vliet… explained how her own clinical experience and medical research have shaped her understanding of COVID-19 and the mRNA jabs, and given her a burning desire to help the public with her insights.

"Vliet shared that her background in internal medicine and climacteric medicine, which studies the effects of hormonal changes on the body during menopause, has informed her understanding of COVID-19 treatment, as well as the side effects of the so-called vaccines…

"Vliet said the 'coordinated government-media-big tech collusion' is being dishonest about the actual effectiveness of the COVID jab in order to 'drive people' to receive it. 'And the tragedy of it is that people are being totally lied to, when they are using the Delta variant as a reason to rush out to get the experimental COVID shot, because the COVID shots don't protect against the Delta variant…'

"Vliet lamented the fact that relatively few doctors are standing up to 'the suppression of medical information,' and that even these doctors are being silenced… Vliet said, 'Never in my career, never ever has there been this degree of censorship across the board: medical boards, governors, media outlets, government agencies, health systems, hospitals, medical schools, research institutions… Never has there been such a coordinated draconian attacking physicians who are simply trying to do their job to assess the patient, determine treatment to the best of their ability, use the tools at hand, that are FDA approved medicines, widely available, and used every day in medical practice. Never have we had anything like this. It is totally unprecedented.'…

"When asked why she believes censorship and suppression of medical information is occurring, Vliet said… 'There are 3 things that tend to motivate decisions like this: Money, power, and control…'

"Vliet said that people have given up their usual 'common sense' approach to life when confronted with COVID-19… 'people are blindly going into one of the largest experiments in human history, asking no questions, and that's not what they do in any other aspects of their lives…'"

Sadly, she is absolutely right when speaking of "blind" submission and giving three reasons (and there might be more) for censorship and suppression of medical (and other) information: Money, power and control by the government, Big Tech, the mass-media and its medical pharmaceutical supporters.
Sadly, the truth is that science has been suppressed on a lot related to COVID-19 for political, and sometimes financial, reasons.
07/23/21 a.m. LCG's presiding evangelist sent out the following:
Greetings from Charlotte,

Everyone should now be home from the Texas Teen Camp that we shut down because of COVID—most likely the Delta variant that is sweeping across the world at this time. Both Carol and I, as well as others who were at the Texas camp, have come down with it. I took Carol to the emergency room per doctor's orders, but she was not put in a room and was sent home after a long day sitting up.

... — Gerald Weston
The Westons and others in LCG (and various ones in other COGs as well as not in any COG) remain in my prayers.
07/17/21 p.m. This morning I was told by an LCG source that LCG cancelled its Teen Summer Camp because someone apparently had COVID and infected about three people (quantity uncertain).
I reminded my source COVID policy issues, though not COVID itself, were blamed on the split from LCG by Sheldon Monson last Summer.
07/10/21 a.m. RCG's David Pack reportedly sent out the following:
Prophecy Update

I am sending brethren this note one day before you receive the Member/Co-worker letter because I didn't want another day to pass without you hearing from me during these extraordinary times when we are all "on pins and needles" waiting for the return of Christ and the Kingdom of God. How strange it is to say this when over 2 billion Christians of this world should all be saying the same thing when probably very few are.

With Part 306 now almost a month behind us, most are naturally wondering if we must wait another year. Just the news screams NO! We are still right where we should be. Why after giving His Church so much knowledge and such a marvelous picture would God expect us to "sit on it" until 2022 or beyond? In fact, even more has come clear. But there is not enough time for another message.

We have long wrestled with all first-day events. Suffice to say the picture is still bad. All brethren living and dead—except those kept by Christ—will face the antichrist and show where they stand through an initial "falling away first" (apostasia). After this the Man of Sin will fully test those still asleep by the Day of Christ. While sobering to contemplate, this two-phase trial means all of God's people can be complete much sooner than we had anticipated.

Although we "see through a glass darkly" until the Kingdom arrives, never forget how far we have come in understanding. The little flock in

Luke 12:32-35

is told to keep their "lights burning." We are now in a very tight window for MANY REASONS. (If time permitted, I would explain why the first Kingdom including the Great Tribulation is the 75-day difference between the 1,335 days and 1,260, which matches the second half of the 7-year Kingdom.) Let's continue watching and praying that we will escape all evil that lies ahead. Stay alert! We cannot have long. The Day of the Lord must still arrive shortly after the Feast of Tabernacles. The math of the Bible will not permit longer than that. It is still a little while before we could even entertain another year. You can do the math!

David C. Pack



Well, I have done the math, and he is wrong.
Here is a link to a sermon related to the earliest that the Great Tribulation can begin: Great Tribulation: 2026 or 2027?
Here is a link to an article with "the math": Does God Have a 6,000 Year Plan? What Year Does the 6,000 Years End?
07/01/21 a.m. Here is a report we received last evening from CCOG's Canadian hosts Herb and Gisele Haddon:
Good evening Dr.Thiel,

For more than a year, probably even 2 or more years, my health has been deteriorating. The medical profession figured I was suffering from asthma, so treatment was administered. I continued to get worse.

In the past year, several specialists examined me to offer their opinions. My breathing continued to regress. I often lost my breath. I began loosing muscle mass and strength throughout my whole body. I could not stand without aid. Even my voice was failing.

March 23 tests were performed for ALS. The disease was confirmed.

On April 19 a lung specialist examined me. The lungs were in great condition. It was the surrounding muscles to make the lungs function that were loosing their strength.

May 12 I saw the ALS specialist who confirmed everything.

Prayer requests were sent to the church for my healing. From the diagnosis forward everything is a blur.

I can remember after being diagnosed with ALS that the doctors were always coming up with new treatments, so perhaps a cure is around the corner. A quick study online dashed those hopes. I was not prescribed any medication. I thought of natural medicines that you (Dr. Thiel) could administer. Surely there was hope there?

As this disease has no cure, death is the only outcome. I was devastated! I had to turn to God to heal me. Gisele's faith would prove to be strong as well as the whole Church praying to our Father for my healing. God has heard and answered.

As my breathing was getting worse by the day, the inevitable happened. On Thursday June 17th, my mouth and tongue turned blue and I was falling in and out of consciousness. From responsive to unresponsive. Called the ambulance and was taken to the hospital. Was unresponsive all day and by evening the situation deteriorated so much that they put me on a respirator. At that time the Dr. told Gisele that the end would come in about 1 hour.

All my family were called to say their goodbyes. Gisele refused to believe that my time was up because my work was not done. Haiti had to be helped. Told the Drs that God would heal him. This was not the end. They tried to convince Gisele to not hold on to false hope. She told them that faith in God would heal him. God had a purpose for me yet. As Gisele was standing next to me and rubbing me to wake up, I opened my eyes and told her to let me go. She was very emphatic that she would not let me go. My work was not done. I repeated twice more my request for her to let me go and both times she gave the same answer. After a few minutes I turned to Gisele and said "you know what? I am healed!" Gisele agreed.

I remained lucid for the rest of the evening and all my children had the opportunity to spend time with me. Then unresponsive the rest of the night. The Drs at this point did not understand why I was not dead. Co2 levels still very high. Well over 100 at this time. The next morning they moved me to a ward. Was still unresponsive and did not remember the night before or what was going on. This went on until Sunday. I was put on oxygen and started coming around at the beginning of the week as the CO2 levels were starting to normalize and they had me on a different BIPAP with oxygen. From then on I could sit in a chair and walk a little bit. I was talking, no more confusion, no more hallucinations, these had been going on for about a week or two when I was home. They had me use a cough assist to clear my lungs as they were very full of phlegm. After a few days lungs all clear and barely out of breath. Could eat a meal without putting on BIPAP in the middle of my meal. Could carry a conversation without any problems. The Drs tried to explain away that my dramatic improvements were due to oxygen. They Removed the oxygen on Wednesday and oxygen levels are now between 93 and 99. So I guess oxygen was not the reason for improvement. Gisele told the Drs that God was responsible for his healing. She had faith that God would heal him through prayers. The Drs thought Gisele was in denial!! I believe they are the ones in denial refusing to believe that God can and does heal. She told them that medicine and science were not the answer to everything.

Finally after getting well enough they sent me home on Monday. I am feeling better than I was a year ago. All tremors and other ALS symptoms are gone. Still weak physically but getting stronger every day.

I truly believe in the power of faith, prayers and fasting. God was with me every step of the way. Praise be to Him.

Thank you to all my brethren for all your prayers. God did hear.

With love

Herb and Gisele
It should be noted that even though ALS is not supposed to go into remission, the medical doctors still believe that Herb has ALS.
Does God still heal people today?
Yes.
I have received reports from various ones who have been healed in response to getting anointed cloths (cf. Acts 19:11-12) from the Continuing Church of God (CCOG). God does still heal people today, in accordance to His will of what is best for the sufferer.
Herbert (Herb) W. Haddon, our host in New Brunswick, Canada had been having severe health issues for many months. The medical profession diagnosed and confirmed that he was suffering from Amyotrophic Lateral Sclerosis (ALS). Herb and I discussed the diagnosis and my limited clinical experience with it–we did NOT send him supplements for it.
Consistent with James 5:14, Herb wanted the elders of the CCOG to pray for him.
So I prayed for him and requested prayers for him in the weekly Continuing Church of God Letter to the Brethren, several times (see Letter to the Brethren: March 25, 2021, Letter to the Brethren: May 20, 2021, and Letter to the Brethren: June 10, 2021).
While God has healed people in and out of the COG throughout the church age, this apparent healing may be a sign–particularly if other healings of this magnitude or even greater take place. A few years back, we had a deaf man experience a miracle in that he was able to hear after Pastor Evans Ochieng preached in Migawi, Malawi (see Letter to the Brethren: February 18, 2016).
God does heal! Healings can be a sign from God (Mark 16:18c).
Herb Haddon, who was lame, now walks. The deaf man in Malawi was able to hear.
Consider those in light of the following related to men John the Baptist sent to check up on Jesus:
4 Jesus answered and said to them, "Go and tell John the things which you hear and see: 5 The blind see and the lame walk; the lepers are cleansed and the deaf hear; the dead are raised up and the poor have the gospel preached to them. 6 And blessed is he who is not offended because of Me." (Matthew 11:4-6)
As far as the poor having the gospel preached to then, we have more than 5,000 congregants in poor regions of Africa who are with us and regularly hear the good news of the Kingdom of God.
Yet, many Christian people in these times act like they are 'above' accepting that poor Africans are important, despite the prophesied need for the fulness of the Gentiles to come in per Romans 11:25 (see also What About Romans 11:25 and the Full Number of the Gentiles?). Most end time Christians feel that they are 'above' accepting that God could have a prophet at this time (see Church of God Leaders on Prophets) and that God is intervening with dreams in the CCOG (see Dreams, the Bible, the Radio Church of God, and the Continuing Church of God) and accepting other supernatural signs now, despite that being prophesied for the last days per Acts 2:17-18 (see also Does the CCOG have the confirmed signs of Acts 2:17-18?).
The apostles were confirmed by signs that followed them (Mark 16:20) and there have been signs that have confirmed the Continuing Church of God (see also Does the CCOG have the confirmed signs of Acts 2:17-18?).
Laodiceans, sadly, seem to be offended by such things--or at least do not take them seriously enough to change.
For more information related to Herb Haddon, check out the post Can Amyotrophic Lateral Sclerosis Be Cured? A Miracle in Canada?
God does heal!
06/19/21 p.m. In response to my 06/18/21 a.m. Banned's webmaster Gary Leonard again posted various falsehoods. We will not bother with those.
Now, while I do not regularly read comments posted at his site, I just did and this time a few that posted comments pointed out aspects of the truth. Here are some of the comments:
Sweetblood777 said...

I do not know Bob and have never heard nor read a prophecy that came from him. Thus IMO he has yet to demonstrate that he is a prophet. On the other hand, I have never read nor heard anything that is morally wrong with Bob. He seems sincere though perhaps deluded.

This site however has taken an overly negative and heavy view of Bob and makes me wonder why he is such a target compared to the many others that claim to be the leader of the COG movement.

If 'Banned' were to concentrate on exposing a false prophecy given by Bob, then you all will have more credibility instead of coming across as a bully by attacking the individual. In my mind, Bob has destroyed his credibility by proclaiming a European superstate that will attack the U.S.A. etc. HWA got this all wrong. He was also wrong in determining which nation(s), are Babylon. These issues and others can be rebuked without hammering Bob to a 'cross'.


June 19, 2021 at 2:30 AM

Hoss said...

Well do I remember when Bob departed from LCG. Reviewing the flurry of postings and correspondence, there seem to be a few parallels with previous places in COG history.
Bob's departure, and starting his own COG are a bit like HWA/CG7. The sudden appearance of "CCOG" suggests this was, to some extent, in progress, at least in planning, some time before Bob's going. HWA's Eugene ministry was also in a position to become independent at short notice.
And like GTA/WCG, where it was better, for a while, to keep GTA under control inside the WCG, some of RCM's words and apparent actions seem to show he thought Bob, under control, within the LCG would be better than him leaving - one way or the other.
I know, there are varying points of view, and the truth in such matters are mixed in shades of gray...

June 19, 2021 at 4:18 AM

Anonymous

said...

Jim Meredith wrote: "If you rebel against the government that God has put in place on this earth, and the leaders He and Christ have chosen, you will not be there at Christ's return."

Seriously?! How can he be so presumptuous to know who will and will not be at Christ's coming?! His assertion sounds like a Papist exclaiming the Papacy is the Kingdom of God on earth and to disobey the Pontiff is to disobey God Himself! Such cultish talk.

June 19, 2021 at 6:03 AM

Anonymous

said...

not sure why you take such pleasure in provoking Dr. Bob....

he's probably the most benign of all the splinters...he certainly doesn't take advantage of anyone, what he teaches is as accurate, and maybe a bit more so, than most...and I'm talking about legitimate groups, not those such as Pack/Flurry and the other similar orgs...(maybe that scares you and you need to try to discredit him for your own sense of well being)

sure, he goes off on this prophet thing, which those looking to follow a man might latch onto, but I think most look past that and simply read his doctrinal material, which is quite good.

you just make yourselves look silly by constantly attacking him...

June 19, 2021 at 6:49 AM

Anonymous

said...

Gotta say this about Thiel, I love his courage in calling out Banned blog as liars.

June 19, 2021 at 7:15 AM
Yes, the Banned blog often posts falsehoods and some there have seen that.
That being said, I received the following email today from CCOG evangelist Evans Ochieng:
Pastor Dr Bob,

Greetings from kenya.

For the last month up to last week, I have been busy visiting the congregations in kenya and co-workers. And since the congregations in kenya are so many now I couldn't manage to visit all of them. I can't continue to visit since there is a big problem of covid 19 which has increased so much in kenya especially Nyanza and western Kenya. The areas have a curfew and nobody is found out as from 7pm till 5 am. The covid 19 cases are so many now in these areas and part of rift valley.

So things have become so difficult in these areas heavily. And these are the areas where most of congregations are located. So we need more prayers to brethren and kenya at large.

The work in kenya has expanded and the doors are open for the work. We have 23 congregations in kenya with 4,022 people. Apart from that we have many Co-workers who are studying our booklets and visit our website. I've been getting many reports also from our deacons and hosts and pastors about how people do contact them about the truth which some of them getting from website, books and from our representatives. So the work in CCOG is expanding and being driven by the HOLY SPIRIT.

These year we are going to have 9 feast sites in kenya and 1 in Tanzania. Total of 10 sites. Malawi and Mozambique, Ethiopia and Ghana. The work in CCOG is expanding day by day in Africa. The problem now in Africa is covid 19. It has blocked many things and people do survive through hardship. We ask for more prayers.

I'm planning to go to Nairobi next week if things cool down because I'm planning to go and get ticket for my trip to Malawi and Mozambique. Moving is very difficult now in most of areas of kenya. CHURCH halls and places of prayers are closed. No gathering.

So things are tough and rough. I recieved the parcel from Bill weekend. We thanked him for a good work.

We need more prayers, the situation is tough here.

This evening I recieved a massage that Teresia osutwa the mother of our strong member Charles osutwa from Mbani congregation is dead. I Will go there tomorrow very early in the morning. Some two weeks back, we lost a member from Eberege congregation in kisii and last week we lost a brother from Mozambique. Now we again lost a member from mbani congregation.

More prayers

Evangelist Evans.
It is fantastic to see the growth we have had in Gentile regions like Kenya!
In Romans 11, verse 25, the Apostle Paul wrote the following:
25 For I do not desire, brethren, that you should be ignorant of this mystery, lest you should be wise in your own opinion, that blindness in part has happened to Israel until the fullness of the Gentiles has come in. (Romans 11:25)
The Apostle Paul also wrote:
14 … Judeans, 15 who killed both the Lord Jesus and their own prophets, and have persecuted us; and they do not please God and are contrary to all men, 16 forbidding us to speak to the Gentiles that they may be saved, (1 Thessalonians 2:14-16)
Many today, instead of forbidding it like the Jews, downplay and/or ridicule reaching Gentiles in places like Africa. But, they do not seem to understand that the Bible teaches that WE MUST INSTRUCT MANY (cf. Daniel 11:33) INCLUDING GENTILES!
Apostle Paul, he wrote:
26 And so all Israel will be saved, as it is written:

"The Deliverer will come out of Zion,
And He will turn away ungodliness from Jacob;
27 For this is My covenant with them,
When I take away their sins." (Romans 11:26-27)
So, in the sequence of Romans 11, we see the full number of the Gentiles will come into the faith (Romans 11:25), prior to Jesus' return (Romans 11:26).
The late Pastor General of the old Worldwide Church of God, Herbert W. Armstrong, taught the following about Romans 11:25:
Now I want you to study carefully one of the most wonderful, important chapters in all the Bible — the 11th of Romans. … Verse 23 says those who abide not still in unbelief shall YET receive salvation. … Now study carefully beginning verse 25: "Blindness in part is happened to Israel [HOW LONG? Forever? No — note it], UNTIL the fulness of the Gentiles be come in" — the end of this age during which God is calling a people from among the gentiles to bear His name (Acts 15:14). And so, says Romans 11:26, "all Israel SHALL BE SAVED [how?]: as it is written, There shall come out of Sion the Deliverer, and shall turn away ungodliness from Jacob." The Deliverer, Jesus Christ, is coming again!

When He comes, the gentile times will be over — the BLINDNESS will be removed from the Israelites — and their opportunity — their FIRST chance — of salvation will then come to those whom God had blinded! This is at the time when He comes to REIGN on HIS THRONE — the throne of David, with the saints made immortal reigning and ruling with Him — and the time is DURING THE THOUSAND YEARS!

Notice verse 31. These blinded Israelites have not now, in this age, received mercy, that through the mercy of the gentiles saved in this age, they MAY, THEN, obtain mercy and salvation. How? Because these saved gentiles will then be kings and priests, assisting in this wonderful Work! (Armstrong HW. Where Will The MILLENNIUM Be Spent? Tomorrow's Word magazine, September 1971, p. 5)

25: "Blindness in part is happened until Israel"-HOW LONG? Forever? No-note it-"UNTIL the fulness of the Gentiles be come in" -the end of this age during which God is calling a people from among the Gentiles to bear His name (Acts 15: 14). … These blinded Israelites have not now, in this age, received mercy, that thru the mercy of the Gentiles saved in this age, they MAY, THEN, obtain mercy and salvation. How? Because these saved Gentiles will then be kings and priests, assisting in this wonderful work! (Armstrong HW. Where Will The MILLENNIUM Be Spent? Plain Truth, February-March 1954 , pp. 4-5)

(25) For I would not, brethren, that ye should be ignorant of this mystery, lest ye should be wise in your own conceits; that blindness in part is happened to Israel [or that part of Israel, meaning the great part, the big part — all but a few, have been blinded. It's the big part actually] until the fulness of the Gentiles be come in. [Or the number of Gentiles to be converted becomes complete — as other translations have it] (Armstrong HW. Romans 11-13. Bible Study, June 27, 1980)
Clearly, we are much closer to the time when all the Gentiles are to come in to later be kings and priests than when those articles were published (see also: Christians are to Rule).
More of the Gentiles had to be called and converted– and that is happening now!
Here are some comments related to the fullness of the Gentiles by the old Radio Church of God:
" For I would not, brethren, that ye should be ignorant of this mystery, lest ye should be wise in your own conceits; that blindness in part is happened to Israel, until the fulness of the Gentiles be come in" (Rom. 11:25). God has a TIME SCHEDULE He is working out. (Armstrong GT. When You Die–Then What Happens? Plain Truth, June 1967, p. 22)

Isaiah 11 … The Gentiles are going to seek God (verse 10) and Israel and Judah are going to be gathered THE SECOND TIME from the heathen nations (verse 11). This could not be speaking of any "spiritual Israel." The last verses in this chapter speak of men crossing rivers and highways as they leave the Gentile nations and return the second time to the land of promise. This is the time spoken of by Paul. "Blindness in part is happened to Israel, until the fulness of the Gentiles be come in. And so all Israel shall be saved: as it is written, There shall come out of Sion the Deliverer, and shall turn away ungodliness from Jacob: for this is my covenant unto them, when I shall take away their sins" (Romans 11:25-27). Here is GOOD NEWS! Here is part of the gospel message. Blindness is happened to Israel, not forever, but until the full number of Gentiles who are to be converted in this age comes into the Kingdom. Then Israel shall be forgiven and the vast majority of Gentiles shall seek God. (Hoeh H. The Coming UTOPIA… Wonderful World of Tomorrow. Plain Truth, March 1957, p. 6; see also Hoeh H. The Coming UTOPIA… Wonderful World of Tomorrow. Tomorrows World, May-June 1970, p. 22)
Since the end of the age with Jesus returning does not come until the full number of Gentiles comes in, shouldn't reaching more Gentiles be part of the final phase of the work?
And while the Two Witnesses (Revelation 11:3-9) and the messages of the three angels (Revelation 14:8-11; see also The Final Phase of the Work) will doing that during the Great Tribulation and Day of the Lord, the way that Romans 11:25 is written shows that Christians are not to wait for that alone, but to also participate in that now. The Apostle Paul ("the apostle to the Gentiles"–Romans 11:13) and the other apostles realized that in the Book of Acts (cf. Acts 11).
We in the Continuing Church of God believe that is so and have been pouring in resources to do into reaching Gentiles, including impoverished ones (see also How does the Continuing Church of God differ from other Sabbatarian COG groups? and the free booklet: Is God Calling You?).
Now, getting back to Banned's webmaster, he downplays both the calling of Gentiles as well as dreams in the CCOG.
But Gentiles are to be called.
And as far as dreams go, consider the following:
Dear pastor

Greetings pastor. I believe you are doing good though you are having great thrust of fulfilling Matthew 28:19 of which we must do before the return of Christ. ...

I had two dreams

1. Before our family joined CCOG my father was then working with voice in the Wilderness Church of God. When I was sleeping I had a dream and in my dream I saw a light and the light was not normal, the one who was standing by the was You pastor Bob according to my dream. Then I had voice shouting, "Arise you who are sleeping, for the Lord is near." I again I heard another voice shouting, "Come up Evans and let us do the work we are called to do." I then saw a man dressed in white clothes join hands with my father walking together towards a very big lake then I woke up.

2: In my second dream some weeks after my first dream and in my second dream I saw almost the same dream and now this was in New Zealand. I did not know about the CCOG group in New Zealand before I had the dream.

Fred
Related to the first dream, in March of 2014 Frederick's father Evans Ochieng came with the Continuing Church of God. When he came, he came with about 260 people from Kenya and Tanzania. His son Frederick's dream showed that we would have much growth in Africa. He and his father listened to God.

In time leaders from other African countries, who did not know Evans Ochieng (nor about the dream), contacted me. We held a conference that many COG leaders from six African countries attended in 2017.

As of today, we have over fifteen times as many in Kenya than when Frederick Ochieng had his dream. So, the dream of working the lake was confirmed--Evans Ochieng and I became a productive "fishers of men" (Matthew 4:19).

As far as New Zealand goes, the first congregation that came with the CCOG was the group in New Zealand.

When I asked Frederick Ochieng about New Zealand, he said he knew nothing about New Zealand and any connection with the CCOG prior to his dream. Those in New Zealand have been heavily involved in supporting the work to reach people around the world.

The New Zealanders have been the primary editors of our church publications, developed a website, put up and managed our Bible News Prophecy Flipboard page, greatly assisted with the Study the Bible Course, supported various aspects of message production, and produce our Bible News Prophecy online radio channel.

Frederick's dream may have been telling him that I (Bob Thiel) was working with those in New Zealand to fulfill Matthew 24:14 and Matthew 28:19-20 to reach the world.

Of course, Banned's websmaster and others who do not believe the Bible do not take Romans 11:25 seriously, nor dreams. But they should per Acts 2:17-18 (see also Dreams, the Bible, the Radio Church of God, and the Continuing Church of God).

06/18/21 a.m. Satan's assistants ("the devil ... he is a liar and the father of it," John 8:44) at the Banned by HWA site do not want people to believe my 06/17/21 p.m. post.

So, let's look at some of their false statements and point out the truth. Here is a lie that Gary Leonard (its webmaster), started a post off with last night:
It's a hot day in California, and in more ways than one. Our favorite self-appointed dreamy prophet and Great Bwana to Africa and 299 Caucasians, who was kicked out of the Living Church of God by Rod Meredith ...
No, Dr. Meredith did NOT kick me out. It was I who left because of broken promises by him and others to correct doctrinal, historical, and prophetic errors he and the then other LCG evangelists agreed to correct, as well as other integrity problems in LCG. (Plus I could not accept the falling away change, which Richard Ames agreed to look at with me on October 8, 2012--see The Falling Away: The Bible and WCG Teachings).
Anyway, all the top leadership of the Living Church of God know full well I was not kicked out--but left 12-28-12 after receiving an outrageous and inappropriate email from Dr. Meredith (see Roderick C. Meredith's Accusatory Letter to Bob Thiel).
Gary Leonard cannot get over the fact that it was I who "kicked out" LCG, not the other way around. If he and others at his libelous site would stop repeating the lie I was kicked out of LCG, I would not feel the desire to sometimes comment about it.
The evening the day I left, my LCG pastor sent me the following email:
Dear Dr. Thiel,

I am very sorry to see you... leaving the Living Church of God.

In Christ's service,
Jeffrey Fall
Later in that same evening, even Jim Meredith (son of Dr. Meredith) emailed me and asked me to reconsider and come back. Here are some excerpts:
Bob, as you know, we have never really seen eye to eye. ... But now you have made a potentially fatal error; ... You obviously took no time to fast and pray about dad's response ...

Bob, please take the time to carefully, and prayerfully consider what you are doing, and where you are headed. You are a bright, intelligent man, with a great potential ...

If you rebel against the government that God has put in place on this earth, and the leaders He and Christ have chosen, you will not be there at Christ's return. ...

In Christian Love,

Jim Meredith

Living Church of God
Office (704)844-1970
Jim Meredith, who was partially behind the 12-28-12 letter to me that Dr. Meredith sent, fully realized that I left, NOT that I was kicked out. As far as rebellion against God's government, I assert it is those in LCG that do not accept how GOD works (see The Bible, Peter, Paul, John, Polycarp, Herbert W. Armstrong, Roderick C. Meredith, and Bob Thiel on Church Government). They are looking to men above God--that is something that Dr. Meredith himself warned about when he was part of the old Radio Church of God (Meredith RC. Second Commandment. Plain Truth, March 1960, p. 27).
Here is the complete email response I sent Jim Meredith on 12-29-12:
Dear Jim:

My actual plan, which I did pray and fast about, was to discuss matters with your dad that I felt that he could correct. Instead, he refused to speak with me and sent me a letter making it clear that he felt that I, and not LCG problems, were the issue here.

FWIW, I specifically told Dr. Fall what I wanted as the outcome, and you can check that with him. And what happened is not what I wanted.

The accusation from you and your dad that this is all about my pride is one that you both may wish to be careful about as it is Satan that is the accuser of the brethren. If your dad would have spoken in depth with me, I had hoped and prayed that he would be able to see certain areas that needed correction and the matters actually resolved.

It is not clear to me that you are aware of how many broken promises that you dad and Dr. Winnail have made to me (related to correcting literature, doctrinal matters, etc.).

Anyway, when your dad sent me a letter calling me names and accusing me of twisting various matters as well as denying specific things he told me, combined with the fact that he would not even speak with me, I took this to mean that the mantle was no longer in Charlotte and further attempts at reconciliation were futile.

It was he who refused to speak with me and try to resolve matters.

Anyway, the last time I prayed for you and your dad was this morning, and you both will remain in my prayers.

Regards,

Bob Thiel
Some may be interested to know that on February 20, 2013, less then two months after CCOG was declared, Dr. Meredith sent me an email asking if I would come back. My response, which I sent on 2/21/13, included the following:
Dear Dr. Meredith:

Good morning. ...

On 12/28/12, after receiving your email to me, I telephoned Dr. Fall, discussed your email with him, and then told him that morally I could no longer have affiliation with the Living Church of God. I then sent you an email where I clearly stated to you that I was no longer with LCG. ...

As far as me and the Living Church of God, there would have to be major specific changes for me to be able to come back. At this stage, without changes, I do not believe that LCG can possibly be the group that God will use to complete the final phase of the work. I have totally committed myself to support the Philadelphian end time work of God, which is why, to a great degree because of steps you did and did not take, the Continuing Church of God (CCOG) had to be formed.

You may be interested to know that I did not want to be in the position that I am now in. ...

My attempts in 2012 to prevent the current situation were not properly reciprocated by you. Anyway, I continue to pray for you, your wife, and others in LCG pretty much daily.

Sincerely,

Bob Thiel
Dr. Meredith did not respond to my response to him. The changes needed were not made, so there was no point in going back. More on why I left is in the article: the article: Why Bob Thiel Left the Living Church of God.
Gary Leonard's post also included the following:
Having nightmares and dreaming up fantastical stories to prove your legitimacy does not make on a prophet either.

Public/official 'prophet' recognition by LCG was NOT a factor in my choosing to leave--particularly since ALL the then LCG HQ evangelists stated that God might consider me to be a prophet. This was also directly confirmed to me by Dr. Doug Winnail in September 2012 and after I left in January 2013 (and that 2013 time was in writing).

It is a FACT that not ALL LCG evangelists thought Bob might be a prophet. If any of them thought that then it is proof that these guys were not real ministers.
As far as the "nighmare" crack goes, the word of God says that God speaks to prophets in dreams in Numbers 12:6 (for more on that, check out the article: Dreams, the Bible, the Radio Church of God, and the Continuing Church of God).
Now, how could Gary Leonard state that the LCG evangelists did not say Bob Thiel might be a prophet as he was NEVER part of any of those conversations, has never met (or spoken with) me, nor did he ask them before making his assertions?
Obviously, he simply cannot stand the idea that God could have a prophet and that the top leadership at LCG thought I may be one.
Furthermore, as I posted yesterday, ALL the then LCG HQ evangelists stated that God might consider me to be a prophet.
This is NOT just my word against the false testimony of Gary Leonard.
On August 26, 2012, LCG evangelist Dr. D. Winnail flew out to my area to meet me. One of the things that Dr. Winnail told me was, "We all think that you might be a prophet."
In order to determine who "We all" was, on September 7, 2012, I asked if this was a reference to all three of the LCG Charlotte-based evangelists and Dr. Winnail concurred.
Furthermore, on January 7, 2013, which was about two weeks AFTER I left LCG, Dr. Douglas Winnail sent me an email, which included the statement, "we made comments to you that "you may be a prophet.""
Jesus stated:
11 Blessed are you when they revile and persecute you, and say all kinds of evil against you falsely for My sake. 12 Rejoice and be exceedingly glad, for great is your reward in heaven, for so they persecuted the prophets who were before you. (Matthew 5:11-12)
So, Gary Leonard's false and evil statements about me are consistent with those Jesus said would happen to His blessed, like the prophets. On a positive note, one thing that false statements sometimes do is to trigger a truthful response. Hence my posts today and yesterday.
The truth is available for those who do not want to believe lies.
Furthermore, I noticed the following comments someone made at the Banned site today:
A true prophet would not have to convict others that he is a prophet. ...

Thus far, Bob hasn't given one prophecy (that I know about), that would indicate that perhaps he is a chosen one for this job.
To that poster's credit, at least he added "that I know about" in the last comment. If he, or anyone else, would like to see a list of fulfilled predictions and links with others, check out one towards the end of the following article: Church of God Leaders on Prophets. As far as true prophets not needing to assert that they are prophets, both the Old and New Testament show that prophets DID decide they had to give reasons that they were true prophets as Amos, Jeremiah, Paul, and others did (see How To Determine If Someone is a True Prophet of God).
Consider that the Apostle Paul wrote:
20 Despise not prophesyings.

21 Prove all things; hold fast that which is good. (1 Thessalonians 5:20-21, KJV)
Hopefully, you, the reader, take those scriptures seriously and have not despised prophesies and have truly PROVEN what you believe on this. If so you can actually be one who will "hold fast that which is good," which includes the truth about me and the prophet matter.
Of course, many will choose not to believe the truth or be sufficiently diligent to "prove all things," but will instead love and believe a lie--even though the Bible warns against that (Revelation 22:15).
06/17/21 p.m. Someone told me today that a LCG minister wrote to him regarding the "main reason" that I left that church was because LCG did not consider me to be a prophet. That is untrue.
As it turns out, the particular minister who indicated that never talked to me to ask why I left. So, how could he know the main reason I left?
The only way would be if I told him, someone I spoke with told him (or someone else who told him what I said), or he read what I wrote about it. For those interested in the truth, here is a link to an article about why: Why Bob Thiel Left the Living Church of God.
The Bible warns repeatedly in the Old and New Testaments about not bearing "false witness."
It is being a false witness to claim to know the "main reason" why I left when 1) it was not the reason at all and 2) the writer cannot read minds (cf. 1 Samuel 16:7). Yet, that is a false narrative which many in my former association have chosen to believe.
In addition to bearing false witness, the Bible warns against "whoever loves and practices a lie" (Revelation 22:15).
As people who truly know me realize, I left LCG because its top leadership informed me it would not correct doctrinal, historical, and prophetic errors that it had--and had previously agreed to correct. It is a lie to believe otherwise.
For just one example of uncorrected errors, here is a link to LCG's 2011 Statement of Beliefs with my proposed corrections, December 2011 Proposed changes to LCG's Official Statement of Fundamental Beliefs. Dr. Meredith originally promised to completely make these corrections by January 2012--but he failed to do. Then on 28 December 2012, Dr. Meredith made it clear he completely renigged on that promise and many others--I left LCG that day. The prophet matter was NOT why I left (though it was a factor in deciding I had no choice but to then declare a separate organization).
The only 'prophet' recognition that matters is God's, who appoints prophets per 1 Corinthians 12:28 (see also Church of God Leaders on Prophets). Many act like they do not real ize that, but instead talk against that which they do not want to accept (cf. Matthew 5:11-12; Acts 7:52).
Public/official 'prophet' recognition by LCG was NOT a factor in my choosing to leave--particularly since ALL the then LCG HQ evangelists stated that God might consider me to be a prophet. This was also directly confirmed to me by Dr. Doug Winnail in September 2012 and after I left in January 2013 (and that 2013 time was in writing).
Furthermore, as Dr. Winnail, Dr. Meredith, and Richard Ames were aware, it was certainly not my desire to start a separate church organization.
Yet, sadly, most with LCG have chosen to believe something about my departure that is not true.
The Bible specifically warns, "Cursed is he who does the work of the Lord deceitfully" (Jeremiah 48:10).
The above scripture is why I had to leave and biblically know why, without repentance, LCG cannot possibly lead the final phase of the work and CCOG can.
Those who believe otherwise are trusting in a lie.
06/11/21 a.m. LCG had the following it its e-zine today:
Bible prophecy reveals that Germany, not France, will lead Europe at the end of the age. The German-led "King of the north" will eventually become heavily involved in the Holy Land and closely tied to the Roman Catholic Church. Bible prophecy does not identify France as a major player in the future of Europe. Where exactly France will fit into a final configuration of nations or kingdoms in Europe remains to be seen, but Scripture is clear that Germany will be at the helm.
LCG has been suggesting, for a long time, that France may not be part of the initial groups of nations that will support the rise of the final Beast power. That view is in error. LCG should realize that since it teaches that the final Beast power will be the rise of a new 'Holy Roman Empire,' and that the old 'Holy Roman Empire' included most of France, that France will be included.
That does not mean that France could not have problems with the EU or even leave it, but that when reorganization of Revelation 17:12-13 occurs (see Must the Ten Kings of Revelation 17:12 Rule over Ten Currently Existing Nations?), French territory will be included.
Now notice something that specifically discusses France that the late COG evangelist Dibar Apartian wrote over 56 years ago:
A Striking Parallel

There may be a striking parallel between Reuben's behavior in the past and that of France today. Indeed, in a few years, Reuben's modern descendants will be at the side of the prophesied "beast" of Revelation when the Anglo-Saxons (the descendants of Joseph) are taken captive. France, like her forefather Reuben, will probably seek a compromise to prevent her former allies – the very SONS of Joseph – from being taken captive by the enemy. But what good will that really do? What good did it do to Joseph?

A compromise never relieves one from one's own responsibilities. Without a doubt, Reuben loved his brother; he exerted himself in his own ways, through his own human reasoning, to save him. But the fact remains that he ended up by acting like a foe! France today also likes her "kin," her natural allies. But, unless she repents, France will end up BEING a foe!

(Apartian D. France: The Enigma of our Time. Plain Truth, August 1966, p. 32)

Like all nations today, France has turned away from God. Catholic by faith, 9 out of 10 Frenchmen have never read their Bible, nor do they believe that, in its entirety, it represents the WORD OF GOD. What then will happen to France? Will she win the next WAR? She is presently a member of the "Common Market" which is already becoming a POLITICAL union. It will eventually include TEN nations or kingdoms.

Will this union win the third WORLD WAR?

God says that though He will allow it for a short while to conquer the descendants of Joseph (the BRITISH and AMERICAN peoples), He Himself will intervene to deliver His people. Jesus Christ, at His second coming, will fight and destroy those nations who rebel against Him (Rev. 17 : -14). (Apartian D. De Gaulle and the Next World War. Plain Truth, September 1964, p. 41)

At the second coming of Jesus Christ, the TEN KINGS or KINGDOMS-including France-will be of "one mind, and shall give their power and strength unto the beast" (Rev. 17:13).

"These shall make war with the Lamb , (Jesus Christ, and the lamb shall overcome them; for he is LORD of lords, and KING of kings: and they that are with Him are called, and chosen, and faithful" (Rev. 17:14).

This is the infallible prophecy of the Bible. Unless France wakes up and repents, she and the other nations will fight the Lord at His coming. They will be punished by sword, by famine and pestilence-by the plagues of Almighty God! (Apartian D. Prophecy Reveals the Future of France. Plain Truth, August 1963, p. 22)
Thus, unlike some in LCG, Dibar Apartian realized that some of the Israelitish nations would be part of the Beast and will betray the sons of Joseph (Ephraim and Manasseh; see also Anglo – America in Prophecy & the Lost Tribes of Israel).
The late Pastor General of the old Radio/Worldwide Church of God, Herbert W. Armstrong, agreed:
Poland, and as you know Romania is not really very enthusiastic with the Soviet, and neither is Yugoslavia. And I can begin to see some of those nations breaking loose from the Russian orbit and going in.

Instead of the Scandinavian nations, they will go in with France and Germany; and with Spain and Portugal and Italy, and form the ten … with the Roman…and that will be the same territory that was occupied by the old Roman Empire. That is coming along. (Armstrong HW. Beasts of Daniel and Revelation. Bible Study, Date: November 8, 1980)
Perhaps it should to be pointed out that several of the "Israelite nations' are ethnically mixed (per Davidiy Y. The Tribes, 4th edition. Russell-David Publishers, 2011 and other sources) and it may take them some time for the actual Israelites to separate out. Including some of Reuben.
That being said, LCG has a variety of prophetic hesitation, confusion, and errors that, unlesss it changes, will prevent it from realizing when the Great Tribulation will begin until after it has. Some details are in the article LCG: What About the Living Church of God? Are there Doctrinal Differences with the Continuing Church of God?
06/04/21 a.m. Former WCG pastor Dennis Diehl listened to a recent RCG sermon and posted the following about it:
Dave Pack is currently on sermon 302 continuing to show how easy and simple it now is to see where "they" didn't understand but now "he" does, the details of when Jesus will return. Currently it is this coming Fall for many reasons that Dave pulls out of his....mind.

Dave notes that it was five years ago that he actually dreamed he would be giving 302 or 303 sermons on this. ...

His use of NT scriptures on how soon the NT portrays Jesus return ... Dave sees obvious connections to his ridiculous views where there are none and never could be. But we knew that.

So, the Good News for RCG is that "the math is absolutely correct" (I have stated in the past that real sermons should not have math in them) and his Jesus is coming in the Fall of '21. I suspect it "absolutely has to be Trumpets..." , "We missed it but now I clearly see it's Atonement", and "How could we miss it? It's so simple and now I see it. Last Great Day! That's because, brethren, it's a "Great Day! It's so clear!"
David Pack has repeatedly been wrong on dates that he was sure were correct. He will be wrong again. Jesus cannot possibly return before 2028. Jesus will not be returning in the Fall of 2021--mark my words!
Years ago, David Pack explained also how his new web plans would propel RCG to have a greater reach--historically, RCG has spent a huge amount on internet advertising promotions. But finances might now be a problem because his rcg.org Alexa ranking, this morning, was 719,015. On February 21, 2014, RCG's Alexa ranking was 38,722. This change essentially means he probably has less than 5% of the impact he had seven years ago (shadow banning, etc. also may play a role).
05/28/21 a.m. In its newletter today, CEG had the following:
Mercy Triumphs over Judgement

by Paul Niehoff (Australia)

These are four simple words, but without them, we would have no hope. All we could expect would be death, even eternal death. ...

James 2:13: "For judgement is without mercy to the one who has shown no mercy. Mercy triumphs over judgement." God is well known to be a merciful God (Joel 2:13), and He wants us to be merciful just like He is, to be developing His character within ourselves. We read this in Luke 6:36: "Therefore be merciful, just as your Father also is merciful.".
Yes, mercy does triumph over judgment. Related to that, the CCOG put out a free online book and several sermons covering that and hundreds of related scriptures:
Universal OFFER of Salvation, Apokatastasis: Can God save the lost in an age to come? Hundreds of scriptures reveal God's plan of salvation Will all get a fair opportunity for salvation? This free book is packed with scriptures showing that God does intend to offer salvation to all who ever lived–the elect in this age, and the rest in the age to come. Here is a link to a related sermon series: Universal Offer of Salvation 1: Apocatastasis, Universal Offer of Salvation 2: Jesus Desires All to be Saved, Mysteries of the Great White Throne Judgment (Universal Offer of Salvation part 3), Is God Fair, Will God Pardon the Ignorant?, Can God Save Your Relatives?, Babies, Limbo, Purgatory and God's Plan, and 'By the Mouth of All His Holy Prophets'.
Jesus warned about those who "have neglected the weightier matters of the law: justice and mercy and faith" (Matthew 23:23). Despite Jesus warning about the neglect of subjects like mercy, my prior COG still does not even mention the words mercy or merciful in its Official Statement of Fundamental Beliefs. But CCOG does--check out: Statement of Beliefs of the Continuing Church of God.
Jesus said that the Philadelphians "have kept My word" (Revelation 3:8). We in the CCOG have striven to best do that.
05/13/21 p.m. LCG had the following it its weekly letter:
Are You Filled with the Spirit? We read in the Scriptures inspiring accounts of numerous people who were "filled" with God's Holy Spirit—John the Baptist, his mother Elizabeth, and his father Zacharias (Luke 1:15), On the day of Pentecost, the disciples were "all filled with the Holy Spirit" (Acts 2:4). Later, Peter and Paul are described as being "filled" with the Spirit (Acts 4:8). Paul admonished brethren, "do not be drunk with wine... but be filled with the Spirit" (Ephesians 5:18). How do you become filled with the Spirit? If we repent and make a commitment at baptism and receive the laying on of hands, we are promised the gift of the Holy Spirit (Acts 2:38)). God gives His Spirit to those who obey His commandments (Acts 5:32).
Are far as the Spirit of God and Pentecost goes, notice something about the Day of Pentecost in Acts 2:
14 But Peter, standing up with the eleven, raised his voice and said to them, "Men of Judea and all who dwell in Jerusalem, let this be known to you, and heed my words. 15 For these are not drunk, as you suppose, since it is only the third hour of the day. 16 But this is what was spoken by the prophet Joel:

17 'And it shall come to pass in the last days, says God,
That I will pour out of My Spirit on all flesh;
Your sons and your daughters shall prophesy,
Your young men shall see visions,
Your old men shall dream dreams.
18 And on My menservants and on My maidservants
I will pour out My Spirit in those days;
And they shall prophesy. (Acts 2:14-18)
Notice that the above was promised for the last days.
To learn which COG group has that Spirit, check out the following:
Does the CCOG have the confirmed signs of Acts 2:17-18? Does any church have the confirmed dream and prophetic signs of Acts 2:17-18? Should one? Here is a link in the Spanish language: ¿Tiene la CCOG confirmadas las señales de Hechos 2: 17-18? Here is a link in the French language: Est-ce que l'Église Continue de Dieu confirme les signes d'Actes 2:17-18? A related sermon in the English language is also available: 17 Last Days' Signs of the Holy Spirit.
Remember that the Apostle Paul warned:
19 Do not quench the Spirit. 20 Do not despise prophecies. 21 Test all things; hold fast what is good. (1 Thessalonians 5:19-21)

If you are not part of CCOG and God is not supernaturally intervening via Acts 2:17-18 in your group, what makes you think He must do so later? Do NOT despise prophecies.
05/07/21 a.m. In its newsletter today, CEG had the following:
Wearing or not wearing a mask, or getting or not getting vaccinated is not, per se, tantamount to accepting the mark of the beast, as long as they do not prevent us from worshipping God in the right way (However, wearing a mask in church services might very well prevent us from worshipping God in a proper way). Otherwise, these are personal decisions, based on one's individual situation. If a minister ought to travel overseas to visit the church or baptize or preach the gospel, but could only do so if he is vaccinated first, then vaccination does not prevent him from worshipping God and fulfilling his job as a minister; in fact, it might enable him to do so. If air travel in such a case would require the wearing of a mask, and if there was no other way to travel, then doing so would not constitute accepting the mark of the beast. This does not mean however that he must travel under those circumstances, because additional considerations, personal and otherwise, might have to be taken into account.

These principles, discussed above, do not just apply to ministers. If one has to wear a mask or has to be vaccinated to be able to keep his or her job or to go shopping, then a decision to do so would not constitute the acceptance of the mark of the beast, as it has nothing to do with worshipping or not worshipping God in the right way.
CEG's position on these matters is consistent with CCOG's. Masks and vaccines are not the Mark of the Beast. Information on that 'mark' can be found in the article: Mark of the Beast.
As far as vaccine's go, CCOG's position is in the following article: CCOG on vaccines
04/22/21 p.m. Here is something added to the CCOG Letter to the Brethren: April 22, 2021:
Second Passover

April 25th, after sunset, is the 14th day of Iyyar on the Hebrew calendar. Those who were unable to keep the Passover on the 14th of Nisan (about a month ago) are authorized by scripture to keep the Passover then.

This is based upon the following passages of scripture:

1 Now the Lord spoke to Moses in the Wilderness of Sinai, in the first month of the second year after they had come out of the land of Egypt, saying: 2 "Let the children of Israel keep the Passover at its appointed time. 3 On the fourteenth day of this month, at twilight, you shall keep it at its appointed time. According to all its rites and ceremonies you shall keep it." 4 So Moses told the children of Israel that they should keep the Passover. 5 And they kept the Passover on the fourteenth day of the first month, at twilight, in the Wilderness of Sinai; according to all that the Lord commanded Moses, so the children of Israel did.

6 Now there were certain men who were defiled by a human corpse, so that they could not keep the Passover on that day; and they came before Moses and Aaron that day. 7 And those men said to him, "We became defiled by a human corpse. Why are we kept from presenting the offering of the Lord at its appointed time among the children of Israel?"

s during this time. Therefore, Mr. Weston explained we would like to carefully move forward with singing softly while wearing masks, if local regulations and restrictions allow it. He explained that singing softly is reasonably similar to what we are already doing in fellowship. The overall format of services—two songs at the beginning, and one at the end—will stay the same for now. We can be thankful for this decision and encouraged by the opportunity to sing as we worship God together!

LCG's singing restriction was a major factor in the departure of then LCG minister Sheldon Monson, who formed the Church of God Assembly late last Summer.

As far as singing in services goes, we in the Continuing Church of God did NOT ever prohibit it as, consistent with New Testament teachings, we feel that singing was part of original Christian church services. To deal with government restrictions, we had chairs somewhat distanced at the Feast of Tabernacles last Fall, but did not otherwise change our practices.

01/08/21 a.m. Someone put together a five-minute video emphasizing RCG's gardening priorities as well as indicating that RCG is into occult images. Here is a link: https://www.bitchute.com/video/2YD4s8DFVUAQ/

While I do NOT think that having a nice garden is wrong or that RCG is into occult images, it is correct to conclude its priorities are wrong (they have been wrong since its founding, and that was well before it had any garden). Plus, its prophetic understandings have repeatedly been demonstrated to be in error.

01/01//21 a.m. In yesterday's Letter to the Brethren, CCOG had the following:

Another Dream

The Bible teaches that unlike with Moses, God speaks to His prophets in a dream (Numbers 12:6-8).

I am writing this section from Doha, Qatar on December 28, 2020.

After going to bed on the night of December 26, 2020, I had a dream.

Because of airline connection issues, I was concerned whether or not I would be able to make the flight to Qatar.

In my dream, there were complications that made it look like I might not make the connecting flight. In the dream the complications were stressful, but without details. In the dream I prayed about this. I also prayed that if this trip and other trips I have made related to behind-the-scenes aspects of the final phase of the work was God's will, that: 1) if there were stressful problems which looked like might cancel the trip 2) that I would make my connection to Qatar, and 3) that I would pass negative for the airport required COVID test.

(I did not want to be quarantined for two weeks in the event of a false positive. Recently, CCOG evangelist Evans Ochieng got a false positive COVID test which delayed his ability to fly back to Kenya from Malawi.)

Fulfillment?

As it turned out, there were two different people with two different, yet seemingly very serious, health issues on that first flight, which delayed it. It looked like one or both of them (they were not related) may need to be taken off the flight or even treated on the ground as some came aboard the flight related to each of them. While their situations appeared treatable, I was concerned that this may cause me to miss the connection to Qatar, so I began to make contingency plans (as one flight I was on years ago was delayed over 10 hours because of a health-concern of one passenger). Anyway, today was the best time to go on this trip as far as a lot of details were concerned. Plus because how short the trip was, I would have had to completely cancel it if I missed the connecting flight to Qatar. Yet, although my first plane left late, I was able to make the connection.

So, since the first two parts of the dream were confirmed, I strongly suspect that the dream was from God.

Jeremiah was inspired to write:

28 The prophet who has a dream, let him tell a dream; (Jeremiah 23:28)

That is why I am doing so.

Slightly before midnight, I got my required COVID test.

December 29, 2020

It is now December 29, 2020. I have been wondering about the results of my COVID test as they were delayed. I had been told that they were supposed to take five or six hours, but instead after thirteen hours they have not arrived.

So, I wondered if perhaps something was wrong and perhaps the results would say I had COVID-19. I was NOT worried about the disease itself (as I have successfully treated several with it), but was concerned about God's will for something I believed His Spirit, consistent with John 16:11-12, led me to do. I did not want to be working on something of my imagination, but wanted to be sure that the groundwork we were doing was what God wanted us to do.

Anyway finally, after much waiting I got the results of my COVID test.

It was negative. And on this trip I was able to accomplish some things that I believe will have long-term impact on the final phase of the work.

So, yes I believe that the dream did come from God.

Should I have not known before it was fully confirmed?

Not necessarily. The VAST MAJORITY of dreams are not from God, even if they have some accuracy.

Notice also what the prophet Jeremiah wrote:

6 And Jeremiah said, "The word of the Lord came to me, saying, 7 'Behold, Hanamel the son of Shallum your uncle will come to you, saying, "Buy my field which is in Anathoth, for the right of redemption is yours to buy it."' 8 Then Hanamel my uncle's son came to me in the court of the prison according to the word of the Lord, and said to me, 'Please buy my field that is in Anathoth, which is in the country of Benjamin; for the right of inheritance is yours, and the redemption yours; buy it for yourself.' Then I knew that this was the word of the Lord. (Jeremiah 32:6-8)

So, even though Jeremiah wrote that the word of the Lord had come to him, he was not certain until it came to pass.

Now that that all three parts of the dream were confirmed (which reminded me what happened with Gideon for him to do a certain aspect of God's work involving him and others: Judges 6:36-40), I consider that God has confirmed that the behind-the-scenes aspects of the final phase of the work we have been working on for many years was God's will and should continue.

Essentially, this has to do with making mainly low-level contacts with leaders and others on most of the continents of the world which I have long believed will assist in future aspects of the final phase of the work that God wanted done.

While the latest overall trip accomplished much of what we felt needed to happen, one thing I can share was a meeting I had hoped to have with CCOG interested parties from Algeria in Qatar did not happen because of COVID and travel issues–but perhaps God will open the door to Algeria in a different way. Jesus often opens doors (cf. Revelation 3:7-13) in ways we do not always expect.

For those wondering about CCOG and Israel, some behind-the-scenes work has included contacts with Jewish leaders in Israel as well. And, it may be one or more in Israel that will become the first of those that will go from 'behind-the-scenes' to public in the next few years.

While the elements of this dream will not seem dramatic enough for most who call themselves Christian, God sometimes goes with "a still small voice" (1 Kings 19:11-12). And that "voice" (via a confirmed dream) confirmed for me to continue what I have considered to be long-term aspects of the final phase of the work.

Yes, even if not dramatic enough for many, God said He would use dreams in the last days (Acts 2:16-17; see also Does the CCOG have the confirmed signs of Acts 2:17-18?) and has been doing so within the CCOG.

More on dreams can be found in the article: Dreams, the Bible, the Radio Church of God, and the Continuing Church of God. CCOG seems to have the most last day's signs that the Bible predicts--for more details, check out the article Does the CCOG have the confirmed signs of Acts 2:17-18?

Click here for the previous news of those once affiliated with GCG

COGwriter, (c) 2021